Introduction to Robin Singh from Peepal Farm
Robin Singh is an Indian Philanthropist, Entrepreneur, and wildlife activist. He is the founder of Peepal farm, a stray animal rescue and awareness NGO located in Himachal Pradesh, India. Peepal Farm also focuses on Women's empowerment by establishing a system wherein women run a small scale social enterprise.
He is famous among people influenced by the idea of Veganism and those who are into animal welfare.
Robin often uploads videos on YouTube and Instagram where he reveals the simple tricks and habits that can cause less harm to animals and indeed promote their welfare. Most of his videos are related to the welfare of society, especially the welfare of stray animals.
Some of his YouTube shorts and Instagram reels are so informative and heart touching that they have millions of views.
Robin's Ideology is simple, 'Harm less and serve more, since the eternal happiness is only in this.'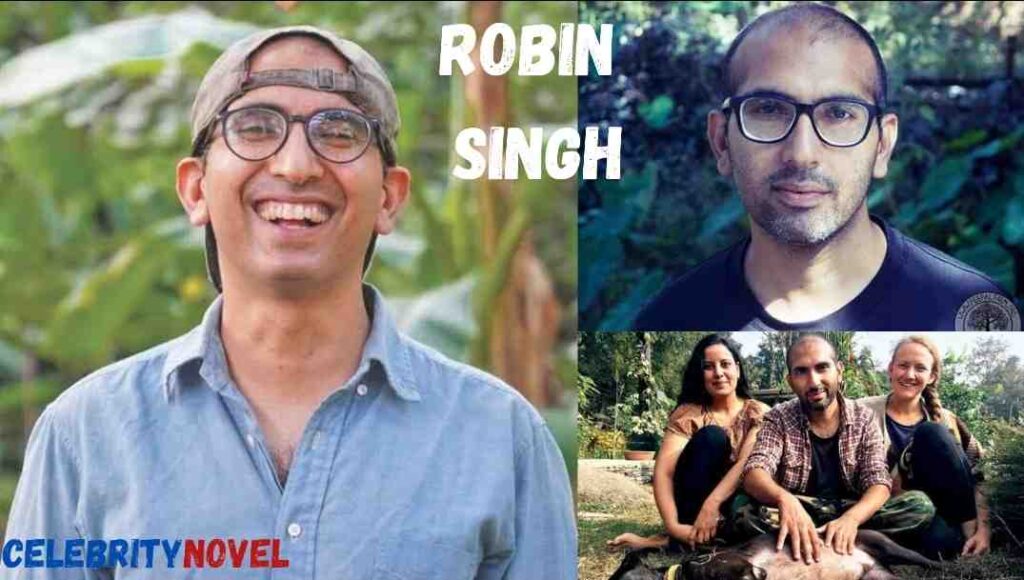 Quick Information on Robin Singh, the founder of Peepal Farm
Personal:
| | |
| --- | --- |
| Full Name: | Robin Singh |
| Age: | 42 years |
| Height: | 5′ 10″ (173 cm) |
| Weight: | 70 kg (154 lbs) |
| Food/ Diet Pattern: | strict Vegan |
| Year of Birth: | 1989 (date not known) |
| Nationality: | Indian |
| Religion: | Hinduism/ Sikhism |
| Hometown: | VPO Dhanotu village, Dharamsala, Himachal Pradesh. |
| Relationship/ Marital Status: | Married to Mrs. Shivani Singh (co-founder of Peepal Farm) |
Professional:
Education:

Bachelor's degree in Computer Science from Delhi university (1997 – 2000)


Profession:


Entrepreneur at E-Junkie (since 2003)

Founder of the NGO- Peepal Farm (founded in 2014)

Content creator on YouTube and Instagram


Interests:

Welfare of the Society and Nature

Promote and raise awareness about Veganism and his idea of 'Harm Less" to the environment.

Computer Science (hacking)

spending time with animals

spending time with nature (he especially loves greenery)

philosophy


Controversies:


In one of Peepal Farm's videos in 2021, Robin was seen raising awareness about the actual custom of Sacrifice during the holy festival of 'Bakr-eid' as per Islam. He said that Islam never taught its followers to kill innocent animals and offer their meat as a sacrifice to the god. It is indeed a misconception and misinterpretation of the Mythological references. He further added that the Paigambar asked his followers to sacrifice the dearest or closest possession they had for their god. Let be it their Ego, their money, their jewellery or anything. Over such comments, he received a significant backlash from his audience and stakeholders, especially from the Muslim users. Although he made it clear at the beginning of his video itself that he did not intend to hurt the beliefs and sentiments of anyone, he was still abused in the comments section by many.


Future Vision:


Spread the idea of 'Harm the least' globally. He is highly dedicated to educating more and more people about the 'Suffering footprint" they are intentionally or unintentionally causing to Nature.

Promote Veganism to the highest possible range

Early Life and Journey of Robin Singh
The Childhood and Journey of Robin Singh to work with Danny in America
Robin's journey started when he was eleven years old. His home environment was a very negative one that had quarrels every day for random reasons.
Fortunately, Robin had a computer with him. He spent the majority of his time in his room with the computer. Robin was a curious person by nature who loved to learn new things. With time, he learnt many things like Microsoft Office, Tally and various programming languages.
At first, Robin learnt Programming to just fulfil his interests, but soon it became his profession. During his college days, he utilized his knowledge and skills to work on freelance projects he acquired from abroad. He was happy handling such projects because it made him enough pocket money to survive as a student. He was 21 years old then.
One such day, while writing emails to his potential clients, he wanted to send an email at the address ending 'Brint.com' for which he accidentally sent the mail at 'brink.com.' So, he misplaced the 'T' at the end with 'K.'
On the other side, Mr Danny received his mail. He was happy reading that since he too was looking for a technical person or programmer to meet his business work. Danny was a film-maker and Media worker living in America's Arizona. He soon replied to Robin and conveyed that he doesn't know who Robin was looking for, but he was pretty impressed with his work and skills, which is why he wanted to offer him some projects.
Robin instantly accepted his offer. They worked for almost two whole years in their respective places.
Robin's Life in America
By 2003, Danny was tired of the time zone variations between the US and India since it became a hindrance to his work which is why he offered Robin a permanent job in his company in Arizona. He convinced him that he would manage all the VISA formalities and that Robin just had to get ready for the travel.
Robin had never thought he would get an opportunity to visit the US. He thought of not missing the golden opportunity, and he soon reached America and started working with Danny.
It was an entirely new experience for Robin. He used to work for 8 hours every day, which he felt was highly hectic. Robin was so tired of his new work life that he somehow wanted to find a solution to it.
By 30, he reached a stage where he developed a software that did the majority of Robin's work. He was now relieved of his stressful job.
Robin now had a much more comfortable life. He owned a house in a good neighbourhood. His routine life included: having delicious breakfasts at cafes, spending time in the library, watching Television, playing the X-Box, visiting new places and restaurants and much more. Summing up, Robin had a well-settled and comfortable life.
He did enjoy his life, but somewhere he wasn't happy with his life. He took the counsel of his peers, employer and other known people but never found a satisfying answer. Now, this became a great concern to him.
The eruption of Misery in Robin's Life
One thing that Robin understood was that he was in a Rat Race or a treadmill-like phase of life. If he continues with the same lifestyle, he would be miserable all his life and end it without solving the misery. It would not be wrong to say that Robin was in an existential crisis.
He had made up his mind to get out of the trap. For this, he started reading books on philosophy in the library. He read books about Buddha and other legends that successfully gave him some clarity.
With time, Robin became more and more conscious of his misery, and one day, he finally found the reason behind it.
He figured out that the main reason for his dissatisfaction was nowhere else but in his routine life itself. Whatever he did in his regular life, whether it was purchasing new clothes, having food in restaurants or consuming any other commodity, it was always SOMEBODY ELSE who was paying its price.
Not the monetary price but the acquisition price of each of his purchases. For instance, even a little pencil he purchased had many components in it whose price had to be paid by some other entity. Whether it's the wood used in it, the eraser behind it or the lead used inside it. For each of its components, a tree was cut, mining had been done, or some other resource had been compulsorily exploited.
Not limited to this, to give the pencil its attractive look, artificial colours are added, that is obtained using chemicals. Moreover, to bring that pencil into the market, the pencil was further packaged in boxes and transported for miles and miles. This again consumed an incredible amount of fuel and raw material.
This is all the thing that was creating misery in Robin's life!
When such a small utility object as a Pencil involved so much exploitation from Mother Nature, what about everything?
Robin realized it is a critical issue that can cause Havoc for the future upcoming generations.
Even though the people, say, the daily consumers, do not have direct involvement in the process, their regular consumption is indirectly promoting this on a very large scale.
The Idea and Formation of Peepal Farm in 2014
Robin had to plan something big to find a solution to this, and this is where the idea of Peepal Farm entered Robin's mind.
Robin's main motto was to reduce the sufferings that one's living causes to mother nature and other living creatures. So he came back to India when he was 32 years. Just like the monks who in search of the truth, were exiled to the mountains and forests.
He visited Auroville, a place in Tamil Nadu. There he noticed an old lady, Lorraine giving food to around 60 stray dogs on a regular basis. She had no proper shelter, no clothes and money, but she somehow managed to do her noble work. Robin spent some time in Auroville, helped the lady and returned to Delhi.
Robin decided to continue his animal welfare and rescue job but this time in a way that has a broader reach and that inspires many people around. So he started looking for land in the rural regions of India.
He finally found one in Himachal Pradesh's Dharamsala where he purchased the land and made a great house using second-hand material. With enough space for Animal Rescue, shelter and treatment, Robin's journey to 'Peepal Farm' had now begun.
Some Interesting Facts about Robin Singh
Robin Singh is a Vegan. He is so influenced by Veganism that his entire team at Peepal Farm follows Veganism.
Robin loves animals like Dogs and Cows the most. Although he likes every animal equally, Dogs and Cows occupy a special place in his heart.
Robin never purchases new clothes. He wears second-hand clothes that he acquires from unknown sources. The reason behind such practice is his idea of 'Consume less, Harm Less, ultimately cause fewer suffering.
Robin Singh is a professional Programmer and hacker. He worked in the US for many years, where he gained significant experience and knowledge.
Social Profiles:
Frequently Asked Questions
Who is the founder of Peepal Farm?
Robin Singh is the founder of Peepal Farm. He founded it with his wife, Mrs Shivani Singh, and a friend in December 2014.
Where is Peepal Farm located?
VPO Dhanotu village, Dharamsala, Himachal Pradesh, India.
What is the name of Peepal Farm's founder?
Robin Singh
What is the age of Peepal farm founder, Robin Singh?
He was born in 1989. He turned 42 years in 2022.
Is Robin Singh married?
Yes. He got married to Mrs. Shivani Singh, who is one of the co-founders of Peepal Farm.