Major Sandeep Unnikrishnan was an Indian Army officer who served as an NSG commando under the Elite 51 Special Action Group, popularly known as the 'Black Cats.'
NSG, or National Security Guard, is an elite counter-terrorism unit under the paramilitary forces of the Indian Army.
Major Sandeep Unnikrishnan got martyred during the 26/11 Hotel Taj special operations after being hit with multiple bullets on his upper body and head. Before giving his supreme sacrifice for the nation, he bravely trapped the four terrorists in the corner of the ballroom further enabling other NSG commandos to kill them.
During Operation Black Tornado, Sandeep continued fighting on the longest staircase of the Hotel Taj until his last breath. His last words were to his co-commando Major Jodha. He told "Stay back Jodha! Let me see these bastards. You don't come behind me." After this, he moved upstairs firing toward the terrorists.
Major Sandeep Unnikrishnan is the definition of Excellence, Courage, Bravery, Sacrifice, patriotism, and Selflessness.
He posthumously was awarded the highest peacetime gallantry award of India, The Ashok Chakra, by the then president of India, Mrs. Pratibha Patil, in 2009. The nation will never forget his sacrifice.
Also Read: The story of the Braveheart of 26/11 MARCOS Commando: Praveen Kumar Teotia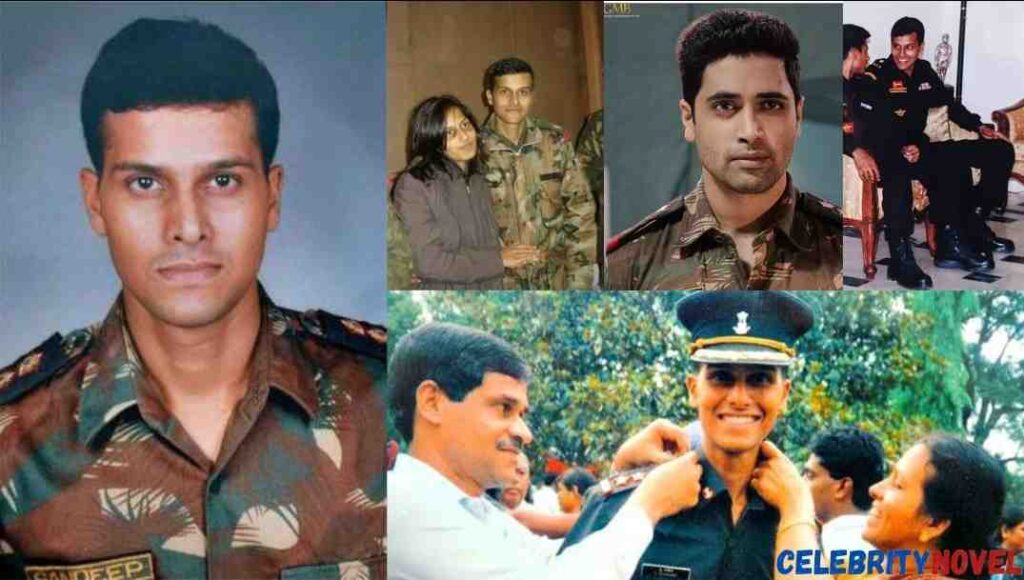 Journey and Early Life of Major Sandeep Unnikrishnan
Sandeep Unnikrishnan was born on 15th March 1977 in a Malayali Family living in Bengaluru. He was the only son of his father who was an Officer at ISRO.
Sandeep completed his education till class 12 in the ISC Science stream from The Frank Anthony Public School of Bengaluru in 1995. Sandeep's classmates and teachers reveal that he was a very athletic and smart student in the class. He used to excel in almost every sport. He was also a dedicated person by nature.
Sandeep Unnikrishnan always had a passion for becoming a Soldier of the Indian Army. He got highly inspired by the Indian freedom struggle history. Veer Bhagat Singh and Bal Gangadhar Tilak heavily inspired him and pumped the blood of patriotism in him.
Major Unnikrishnan was also a member of his school singing group.
After his secondary education, Sandeep took admission in the National Defence Academy in Pune and later joined the Indian Military Academy (Dehradun) to dedicate his life to the Mother Land as a Soldier.
The beginning of Unnikrishnan's Soldier Life
Sandeep got commissioned as the Lieutenant of Bihar Regiment on 12th June 1999. After a few months of service, he got selected for 'Operation Vijay' on 31st December 1999.
In 2003, he was made the Captain, and in 2005 he was promoted to Major. He also excelled in the 'Ghatak Course,' an extremely difficult said Indian Army training program at Belgaum. He later got trained at the High Altitude Warfare School in Gulmarg of Kashmir.
Sandeep Unnikrishnan also showed his courage during the 2002 Gujarat Riots by managing the situation in public places.
In 2007, he became eligible to join the NSG forces, following which he joined its training and became a part of the 51 Special Action Group in January 2007.
The biggest turning point of Sandeep's life was yet to occur after this.
The 26/11 Mumbai Attacks!
Its the duty of the NSG commandos to protect the Nation during its worst times. Let be it a natural calamity or a terrorist attack, it's the NSG commandos who have been safeguarding the Nation since the time being, and they will do so until their last breath.
And so, the NSGs were deployed in Mumbai on 27th November 2008 to neutralize the terrorists and rescue the citizens safe.
Major Sandeep Unnikrishnan along with his team of 10 commandos, was deployed at Hotel Taj to rescue the innocent citizens and thereafter neutralize the terrorists.
Moving ahead through the main staircase of the hotel, it was Major Unnikrishnan to first battle the terrorists openly and fearlessly. Before making this step, he told his co-commando Major Jodha, to not come behind him upstairs. He said he would alone manage those bastards!
With his bravery and strategic moves, he managed to corner the four terrorists into a ballroom, for which he had to suffer multiple deadly injuries and ultimately sacrifice his life.
Later, the other NSG commandos came forward and killed all the terrorists in the hotel.
The Courage and Valour of Major Sandeep Unnikrishnan earned him the highest gallantry peacetime award, the Ashok Chakra, on 26th January 2009.
Although an award can never equalize the sacrifice made by a soldier, Sandeep's Martyrdom will not just be remembered by Indians, but whenever Sandeep Unnikrishnan's name would be taken, they would with pride worship his Courage and Sacrifice.
Quick Information on the Braveheart Unnikrishnan
Personal:
Full Name:

Sandeep Unnikrishnan


Birth:


15 March, 1977


Parents and Wife:

K. Unnikrishnan (Father, retired ISRO Officer)

Dhanalaxmi Unnikrishnan (Mother)

Neha Unnikrishnan (Wife)


Age at the time of Martyrdom:


31 years (on 28 November 2008)


Height:


5′ 10″ (178 cm)



Hometown:


Bengaluru


Birthplace:


Kerala


Place of Cremation:


Hebbal. Bengaluru, Karnataka, India.

Professional:
Education:


Secondary Education in Science stream from ISC school in Bengaluru (The Frank Anthony Public School)

Bachelors of Arts

Advance Military Training from the Commando School Belgaum

Graduate from NDA Pune of its 94th course in the year 1995

Graduate from IMA Dehradun of its 104th course in 1999

High Altitude Warfare School

Posting, Ranks and Operations:

Lieutenant of Bihar Regiment (from 12 June 1999)

Became the Captain of Bihar Regiment in 2003

Became the Major of Bihar Regiment in 2005

Operations:
(1) Operation Vijay (1999)
(2) Operation Parakram (2001)
(3) Operation Rakshak (2003)
(4) Counter Insurgency
(5) Operation Black Tornado (Hotel Taj Operations in 2008)


Awards and medals:

Ashok Chakra by the President of India- Pratibha Patil, on 26th January 2009.

Operation Parakram Medal

Sainya Seva Medal

Special Service Medal

High Altitude service Medal


Years of Service:


1999 to 2008


The Service number of Major Sandeep Unnikrishnan:


IC-58660


Interests:


Serving the Nation

Learning

Singing (he was a member of the School singing group)

Sports and Athletics

Some Interesting facts about Major Sandeep Unnikrishnan:
Major Unnikrishnan was a Calm, dedicated and passionate person by Nature, as revealed by his friends and teachers.
He was married to Neha Unnikrishnan, who was his classmate for 14 years in the Frank Anthony Public School of Bengaluru.
Major Unnikrishnan's last words were to his co-commando, Major Jodha. He told him, "Don't follow me upstairs. I will alone handle these bastards." After this, he moved upstairs firing toward the terrorists, and after successfully cornering all 4 to a ballroom, he got martyred.
Major Unnikrishnan was awarded the highest peacetime gallantry award by the then President of India, Mrs Pratibha Patil, on 26th January 2009.
A Movie dedicated to Major Unnikrishnan's life, and his role in Operation Black Tornado, was released on 3 June 2022, with Mr Adivi Sesh as the lead actor playing Sandeep Unnikrishnan's role.
Frequently Asked Questions:
What was Sandeep Unnikrishnan's rank in the Army?
He became the Major of Bihar regiment in 2005 from his earlier rank of Captain in the same regiment in 2003.

Which school did Major Unnikrishnan complete his education from?
He completed his 12th in Science from the Frank Anthony Public School in Bengaluru in 1995.
How did Major Unnikrishnan die?
During the Operation Black Tornado in the Hotel Taj in 2008, he was hit with multiple bullets on his head and upper body after which he got martyred. He took the last breath of his life in the Hotel Taj.
What were Major Sandeep Unnikrishnan's last words?
His last words were to his co-commando, Major Jodha. He told, "I am going upstairs. Don't come behind me Jodha. I'll alone see these Bastards." After this, he went upstairs firing towards the terrorists and fought until his last breath.
What was Major Unnikrishnan's age at the time of martyrdom?
He was 31 years old on 28 November, 2008 at the time of his Martyrdom.
What is Major Sandeep Unnikrishnan's wife's Name?
Neha Unnikrishnan.
What is the name of Major Sandeep Unnikrishnan's father and mother?
His father, K. Unnikrishnan is a retired ISRO officer. His mother's name is Dhanalaxmi Unnikrishnan, who is a home maker.
Which regiment did Major Sandeep Unnikrishnan belong to?
Bihar Regiment. He joined the Bihar regiment as a lieutenant in 1999. In 2003, he became the Captain and in 2005 he became the Major of the same regiment.