Who is Praveen Teotia?
Praveen Teotia is an ex-MARCOS commando (Indian Navy) who survived the 26/11 Mumbai Attacks. Mr. Praveen was one of the leading team members deployed at the Taj hotel to kill the four terrorists. He is a Physical Trainer and Influencer.
Praveen Kumar Teotia was awarded Shaurya Chakra in 2009 by the President of India. He was also invited as a guest in one of the most popular reality shows of India, the "Kaun Banega Crorepati" in 2018.
Praveen Teotia is currently an Athlete (Marathon runner), fitness coach, and Influencer. He has a great fan following on various social media platforms for his bravery during the operations of 26/11, Patriotism, Noble works, and his affection towards fitness. (Social links at the end)
Praveen Kumar Teotia has completed many marathons globally. He is the first 'differently-abled IRONMAN' of India. Moreover, Mr. Praveen is the only person in the world who has survived a 'Lung Puncture.' (His lungs were punctured during the operations of 26/ 11 when a bullet went through his lungs from both the ends)
Quick Information Table
Personal:
| | |
| --- | --- |
| Full Name: | Praveen Kumar Teotia |
| Birthday: | 17 July, 1985 (36 years in 2021) |
| Place: | Bhatona, Bulandshahar, Uttar Pradesh, India |
| Height: | 5′ 6″ (168 cm) |
| Nationality: | Indian |
| Current Hometown: | Delhi |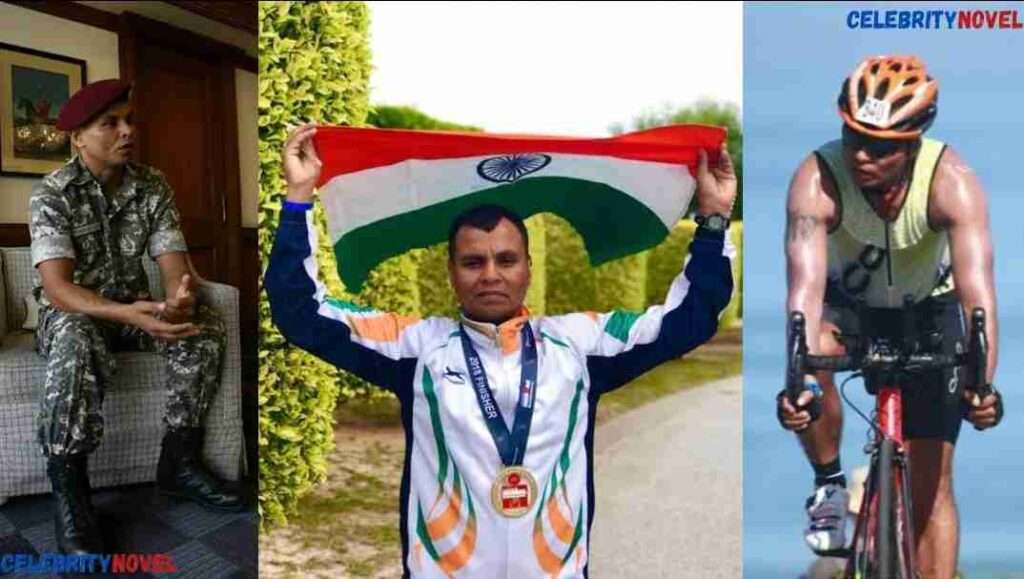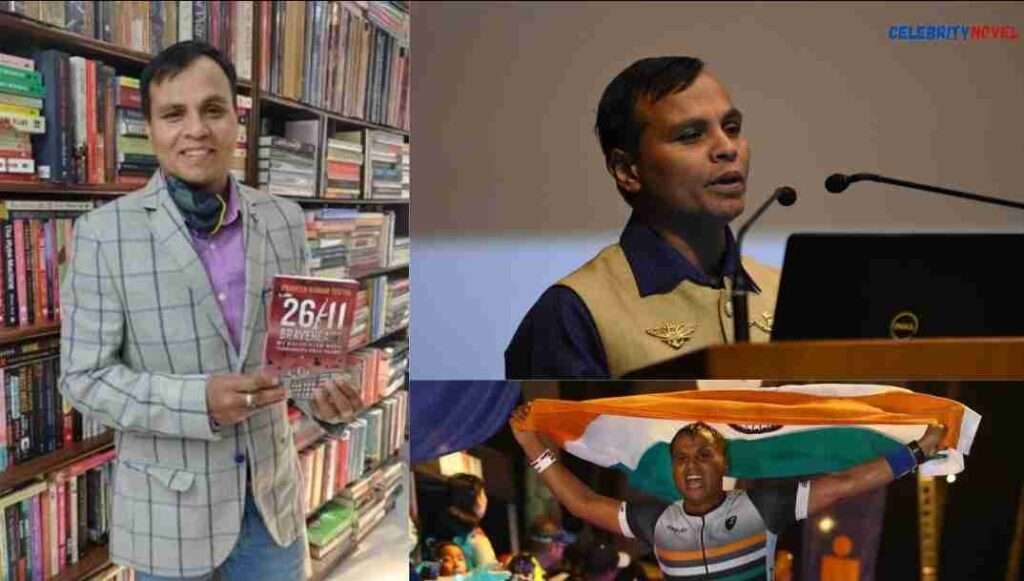 Professional:
Education:
Post Graduate (From Indira Gandhi National Open University)
1. English Literature
2. Public Administration
Profession:
1. Ex-MARCOS Commando
2. Athlete (Marathon and Triathlon runner)
3. Tactical Commando Trainer
4. Influencer: Motivational Speaker
5. Life Coach
6. Deep sea Diver and Mountaineer
7. Wellness Counselor
8. Marathon Coach
Interests:
1. Welfare of the Society
2. Women Empowerment
3. Imparting special weapons anx tactical training to the needy.
4. Fitness
5. Influencing and Motivating Youth.
Achievements:
1. Shaurya Chakra Awardee 2009
2. Three Times IRONMAN from India
3. Name in Limca Book of Records
4. Two times Ultra Marathon finisher
5. Fifteen times Full marathon runner
6. Twenty-six times Half-Marathon finisher
7. One and Only Lung Puncture survivor on the Earth
Books:
26/11 Braveheart: My Encounter with the Terrorists that Night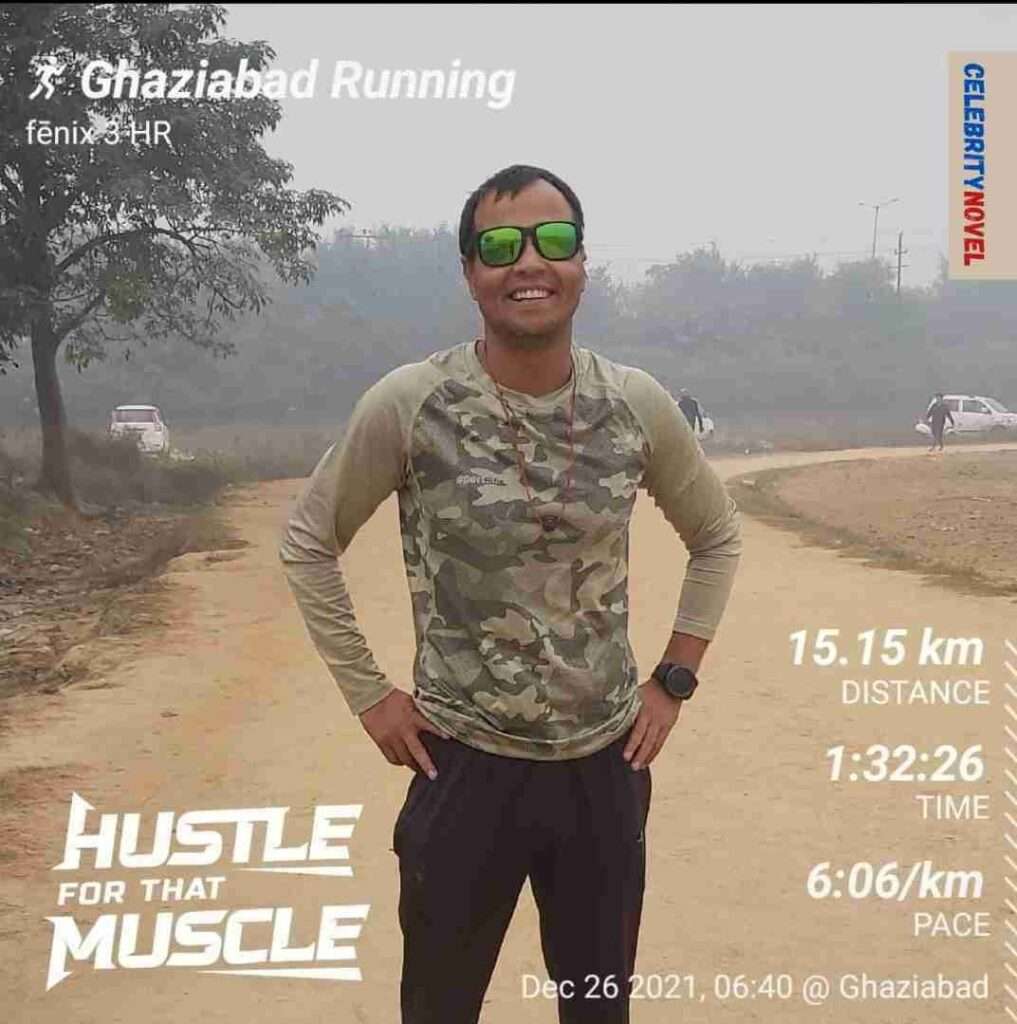 Some Interesting Facts:
Praveen Kumar Teotia is the only 'Punctured Lung' survivor on Earth.
During the 26/11 operations, a grenade was thrown by commando Praveen towards the terrorists in the room of Hotel Taj. If that grenade would explode (and not be a defective one), all the four terrorists in the room would be dead there and then. Moreover, it could also save the Martyrdom of NSG commandos like Major Sandeep Unnikrishnan, and many other Bravehearts.
During the operations, Praveen was hit 4 bullets in the body. He was so massively wounded that many people almost declared that he was about to get Martyred. He precisely describes his condition after the operation in his book, "26/11 Braveheart." He explains how a bullet went through both the sides of his body, how a bullet tear opened his entire ear area and how one bullet fractured his collar bone.
Praveen Teotia is among the very few people on the planet who practice athletic events like Marathons, Swimming and Triathlons even after having damaged lungs and organs. Not just practice, but Teotia is way more fit and efficient than any ordinary young athlete.
After being recovered from all the injuries, when Praveen reported to the Indian Navy for continuing his job, he wasn't taken back to the office on the note that he was no more fit and healthy. Certainly, to prove himself fit and fine, he completed a 72 km Marathon at an extremely cold and high altitude region of Ladakh to prove himself.
Praveen Teotia often says that the soldiers are never given the respect they deserve. However, he never points out anybody in particular but conveys in a general sense.
In 2020, when the entire nation was suffering the Covid-19 Pandemic, Praveen came up with his contribution. He auctioned his hard-earned medals to collect money to contribute to the PM Cares Covid-19 relief funds.
Frequently asked Questions:
Who is MARCOS Praveen teotia?
Praveen Teotia is an Ex- MARCOS (Indian Navy) Commando. He served the nation during the 26/ 11 attacks in Hotel Taj, where he suffered deadly injuries during the counter operations. Currently, he is an Athlete who runs Marathons and Triathlons globally. He is also a tactical weapons coach and swimmer. He is the first and only Lung Puncture survivor in the world.
When was Praveen awarded the Shaurya Chakra?
In 2009, Mr. Praveen Teotia was awarded the Shaurya Chakra by President Pratibha Patil for his incredible Valour and Bravery during the 26/ 11 counter-terror operations at the Taj Hotel.
What is the 'IRONMAN' title held by Praveen Teotia?
IRONMAN is a triathlon event organized by the World Triathlon Corporation that consists of 180km cycling, 3.8km swimming, and 42km marathon. Praveen Kumar Teotia has completed this event three times and became the first Differently abled IRONMAN of India.
What was the rank of Praveen Teotia during his Indian Navy service?
Praveen Teotia was a special Marine commando under the Indian Navy. Marine commandos are highly skilled to manage terror operations. They are professional in tackling operations held in jungles and open valleys.
What's the name of the book written by Praveen Teotia?
26/11 Braveheart: My Encounter with the Terrorists that Night is the book penned by the ex-MARCOS Commando and professional Athlete, Mr. Praveen Teotia.
What's the age of Praveen Teotia?
Born on 17 July 1985, Praveen Kumar Teotia is 36 years old. Although his age seems quite more, he is no less than a 16-year-old boy when it comes to fitness and flexibility!
What's Praveen Teotia's height?
Praveen Teotia is 168 cm high. In feet, he is 5 feet and 6 inches.
What are the Athletic Achievements of Praveen Teotia?
Praveen Teotia has completed the IRONMAN Triathlon three times. He is the first Differently abled IRONMAN of India. He has multiple records certified by the Limca book of records. He has completed 2 Ultra marathons, 15 full marathons, 26 half marathons, and 50 times the consecutive Sunday Half Marathon.
Social Profiles:
References:
[1] Book: "26/11 Braveheart" by Mr. Praveen Kumar Teotia